Finishing the Enclosure
Friday, September 28th, 2012 at 4:36 pm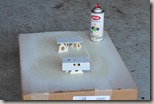 Here's the table of contents for the whole DIY pedal building series:
In previous posts, we modeled the enclosure in Sketchup, drilled it, and now we're ready for paint and artwork.  In this video, I talk about options for finishing the enclosure, and choices for art and labels.  Then I demonstrate surface prep, priming and painting, in preparation for the waterslide decals.

Some of the resources shown in this video:
Previous: Drilling the Enclosure
Next: All my YouTube comments have disappeared!
Tagged with: Enclosure • Pedal • Video
Filed under: Guitar