My new Epi Les Paul Tribute Plus arrived yesterday for my birthday, and it's a beauty!  These things are hard to find- none of the local stores have inventory, and every online retailer is backordered.  I managed to get Guitar Center's last one in the country(!) – from the store in Tonawanda, New York.  The store manager there was great- sent me some pics, played it for me to confirm it was all good, gave me a great July 4th discount, and shipped it over for free.   Thanks Chip!
Cosmetically, it's really nice.  Clean, well-defined flamed maple top and cream bindings.  The cherryburst finish looks near-perfect- with rich warm coloring- not the bright overexposed yellow in the pictures at Guitar Center's website.  The Grover locking tuners feel fantastically smooth, and the switch, knobs and jack all seem good.  And after some quick adjustments, it plays pretty well (but still needs some fine tuning).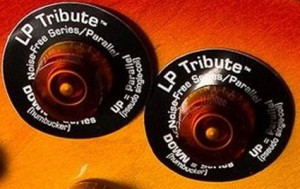 The '57 Classic pickups sound really dynamic, rich and beautiful – they're warm when played gently, and crank when spanked. Love em.  There's quite a range of sounds with the push/pull series/parallel switching on the tone knobs.  When a tone knob is pulled, the humbucker's two coils are wired in parallel giving a lighter, brighter, thinner sound, somewhat reminiscent of a single coil (though different).    It's completely different from the ultra-thick and heavy series-humbucker sound (knob pushed in).  This is a really versatile setup: a total of 8 different sounds using the 3 switches, not to mention the variations you can get by adjusting the volume knobs in the middle switch position.
The volume knobs are wired for non-independent volume, which is the traditional way to wire a two-pickup Gibson.  This means that with the 3-way switch in the center, turning either volume knob all the way down will silence the guitar.  No big deal- if you need to turn one pickup all the way down, use the 3-way switch instead!  The benefit of this wiring over independent volume wiring is that there is very little treble loss when turning down, as the load on the pickup remains constant- so no real need for treble bleed caps.
My first impression of the sustain is good, but it isn't as magically amazing as I remembered from the Gibson Les Paul Traditional.   Has my memory of the super-sustain become distorted by my obsessing, or is there a significant difference caused by lower-quality woods, nut and bridge?  I plan to take the guitar in with me to the Best Buy where I last played that Les Paul Traditional – at that price, I'm sure it's still hanging there, way up high on the wall- and I'll do a side-by-side comparison.

I believe the Gibson Les Paul's bodies are a single piece of mahogany. This body appears to be made from three pieces of edge-glued mahogany.  Perhaps this contributes to the sustain difference?   Still, this is nowhere near as bad as these 5-piece veneered bodies made in Mexico for Fender.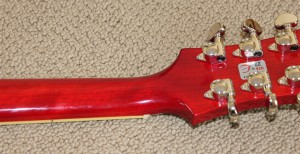 The neck is probably a 3-piece edge-glued construction, but it's very hard to see the joins.  At first I thought I was looking at a one piece neck, but again- those are reserved for the premium-priced Gibsons.
There's a nice mother-of-pearl inlaid Epiphone logo on the headstock.  Around back, you can see the Grover logo embossed on each of the locking tuners.  The serial number is stamped with the letter F followed by 6 numbers.  That doesn't appear to conform to any of the published Gibson/Epiphone serial numbering schemes, so I can't ascertain the factory or build date.  Surprisingly, there's no Made In China sticker, but I'm assuming it was made sometime recently at the QingDao factory in China.
The neck feels better than I expected.  I thought I'd need to immediately level and polish the frets, but it seems reasonably good to start with.  That being said, even after my initial adjustments, I'm getting a bit of fret buzz on the lower strings, so I still have some work to do.
The inlaid rosewood fretboard is not the most beautiful specimen I've seen, but it's acceptable.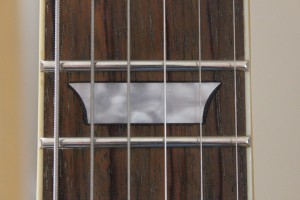 The inlays are nice and pearly, but the factory wasn't very accurate with the routing.  You can see a fairly large gap around the inlays, filled with some black filler.  Not that big a deal, I guess.  On the plus side, the inlays have been perfectly leveled with the fretboard.  You can see in this picture that the board is a bit dry and pale, and there's some buffing compound residue left in the pores.  I plan give it a drink of oil, after doing Roman Rists's razor-scraping technique, as he described in his big Epiphone setup tutorial on MyLesPaul and demonstrated on YouTube.
The electronics are cleanly wired.   The volume pots are Alpha linear B500k.   I haven't removed the push/pull pots to examine them, so I can't yet tell the manufacturer or resistance.  One interesting detail- the tone pots turn with way less torque than the volume pots.  The push/pulls are a bit hard to pull, but maybe they'll loosen up over time.  The low torque and heavy pull makes quick switching on the tone-knobs a little tricky.  The two tone caps are Mallory 150 series .022uF (the same caps I tested in my Crazy Tone Thing series).  The 3-way switch and jack are supposed to be Switchcraft, but I didn't remove them to confirm.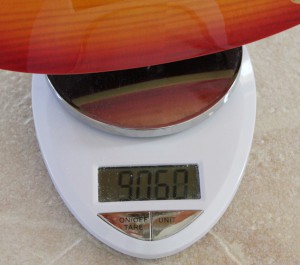 The guitar weighs in at a respectable 9 pounds-  heavy indeed, but not as bad as I feared.  I've read stories of Les Paul's in excess of 14 pounds!!   I think I can get used to this- 9 pounds is only 1/2 pound more than my Riviera, and about a pound heavier than my G&L ASAT III.
In any case, I'll be using an extra-wide Levy's M4GF padded bass strap to ease the shoulder strain.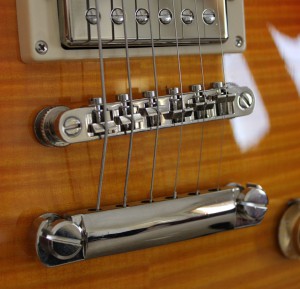 So far, I've heard no buzz or rattles from this LockTone Tune-o-matic, but I imagine it won't be long before that wire starts rattling.  I will most likely end up replacing the bridge with the Gotoh 1511 Tune-o-matic, which eliminates the retainer wire, and provides longer throw screws for better intonation.  The only issue there is that all the replacement bridges seem to be 12" radius, while this guitar is 14" radius.  Not sure how critical a difference that is.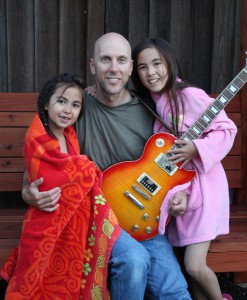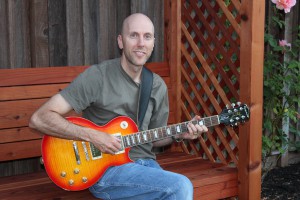 Overall, this guitar is an incredible value, and a worthy tribute to its namesake.
Thanks to Chunling and my girls for this most awesome birthday gift 🙂  Think I'm gonna love it!