The VOX Continental has just been released! This comes just a couple months after the Korg Grandstage announcement in July. These are two of the KRONOS-derived keyboard products I've been working on over the last few years. It's thrilling and very unusual to be involved in two product launches in such a short time span. These products are the result of years of hard work by a large talented team at Korg.
VOX originally released the Continental in 1962. You've heard it in songs by the Doors, The Animals, The Monkees, Velvet Underground, and so many more.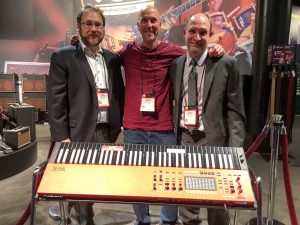 Now, 55 years later, the new Continental contains amazing new models of the original VOX transistor organ and a Farfisa compact combo model, in addition to KRONOS-derived models of the CX-3 tonewheel organ, Rhodes and Wurly electric pianos, analog synths, and a more general purpose PCM engine.
The prototype for the VOX Continental was actually on display at the NAMM show in January 2016. Very atypical for Korg to show a prototype so early in its development. Along with a number of other minor differences with the final product, this early prototype had the traditional inverted key colors of the original. For whatever reason, the newly released product has a standard white on black key color scheme, which is honestly a bit disappointing.
The new Continental has a unique bespoke keyboard stand that allows the keyboard to be tilted forwards or backwards depending on the player preference. 

See all the details at the VOX Continental page. And take a look a this new demo video: