Friday, March 15th, 2013 at 10:03 am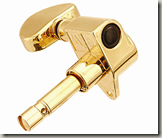 My Epiphone Les Paul Tribute Plus came with Grover locking Rotomatic tuners.    These tuners work phenomenally well. They stay perfectly in tune no matter how much I bend and beat on the strings- and adjustments are smooth and accurate.
These Rotomatics are different from typical locking tuners, like the Sperzel's or Grover's own Roto-Grips, where you lock and unlock the string using a thumbscrew around back.
On the Rotomatics, you just insert the string, and give it a wind, and an inner-cam rotates, locking the string into place under the string's own tension.   I always feel a little uncertain when changing strings on these because the process is a bit different from other tuners.  Here are the instructions from Grover: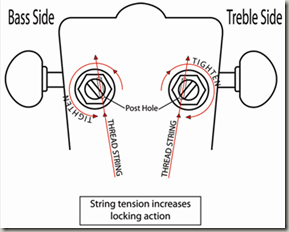 1. Turn tip of string post until it clicks into place. This aligns string post holes.
2. Note string hole is off center. Turn knob to rotate post until string hole is positioned away from knob. Thread string up through bottom of hole and pull firmly. See drawing.
3. Turn to begin tuning. At first, only inner "Locking Cam" is turning, securely locking the string. Once the string is locked, outer post will turn.
4. Bring string to pitch.