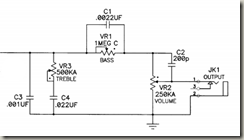 In my tone capacitor video, I demonstrated the typical use of the capacitor as a low-pass filter in a guitar tone control.   On a home stereo, this would be called a treble control, as it is used to roll off the high-end treble frequencies.
But what if you also want a bass control- a high-pass filter to roll off the low bass frequencies?
In the circuit diagram shown here, from the G&L S-500 guitar, you'll find both a treble and bass control.  They call it their PTB system (which presumably stands for passive treble bass, but I'm just guessing here).