Saturday, May 12th, 2012 at 9:11 am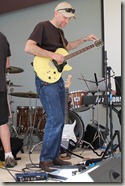 My pedalboard for the recent Summer Music Project gig was a a bit of a compromise.  I couldn't fit the JamMan Delay on the pedal board so it was hanging off to one side, and I had no space for my fuzz and chorus.
I've been planning to build a new larger PedalTrain-inspired pedalboard, and make some new correct-length cables.
Meanwhile, some of this pedal order is dependent on the short cables I had on hand. I would prefer to wire the tuner before the volume pedal, and the compressor before the wah, but that will have to wait for the redo.
The pedal chain I settled on for the gig was:
I received the VOX Ice 9 just before the gig, so I haven't fully explored its voicing yet, but it sounds really nice.  It has an overall darker sound that my Speed Racer, so I'm initially using it as a very mellow overdrive/boost, and using my Speed Racer for more bright aggressive drive.   I wasn't doing any live looping with the JamMan Delay- I was just using the delays, and loving that tap tempo switch.