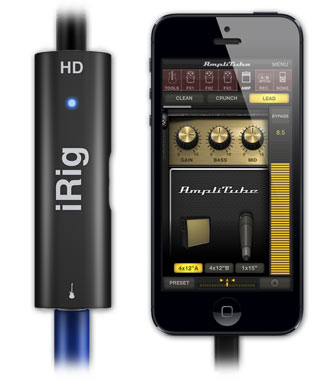 In my series on building your own iDevice Guitar Interface, I demonstrated an interface which connects through the headphone/microphone jack.  This is similar to the commercial products like IK Multimedia Amplitube iRig, Peavey AmpKit Link, Griffin GuitarConnect.   And like all those, it works well, but it is not the most high-fidelity solution.
There are also a number of products that instead connect using the dock connector on the bottom of the iDevice, for example the Apogee Jam, Sonoma GuitarJack, Alesis iO Dock and Line 6 Mobile In.  These interfaces have their own A/D converters, and pass the signal digitally to the iDevice providing higher quality audio.   The downside is that you can't charge the iDevice on battery while using the interface, which may be an issue for live performance and recording.
There's a new contender in the dock-connected interfaces, and it looks pretty nice: the IK Multimedia iRig HD.  In appearance, it looks very similar to the Apogee Jam.  I prefer this style of interface, rather than the Sonoma, and Line 6 approach which have the entire unit hanging off the dock – that seems very precarious and likely to break the dock.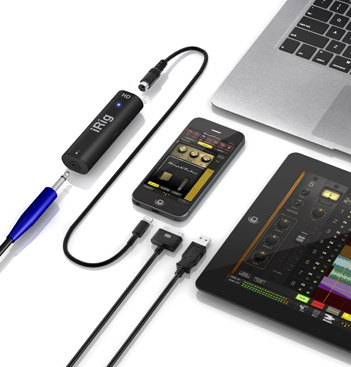 Also, at $99 the iRig HD is cheaper than the $129 Apogee Jam.  If you have a newer iDevice with the lighting connector, the iRig HD is an even better deal, as it includes the lightning adapter cables as well as the older-style 30-pin connecter, and also a USB connector for use with a computer.
All that said, I'm perfectly happy with my DIY interface for practice, but if I was using it for recording or live performance, I might consider buying this iRig HD.