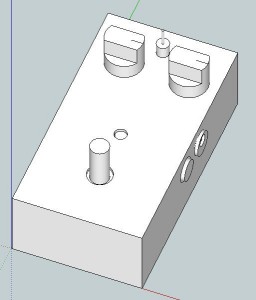 Here's the table of contents for the whole DIY pedal building series:
This is part 2 of my new series on building guitar effects pedals.
This part of the project ended up being far more grandiose than I originally intended.  I started out planning to just show how to model this diecast aluminum 125B guitar pedal enclosure, to make sure my PCB and components would fit properly inside.   But by the time I was done with it, it was essentially a complete beginner's how-to course for Google Sketchup.  (Note, Sketchup is now part of Trimble instead of Google).
To give you an idea of how long this took for me to complete, I started filming the intro and the Sketchup tutorial videos in June of 2011.  Over the last year, in the time-spaces between the rest of life, I've been gradually editing, revising, extending, and composing music for the project.
In this tutorial, I start out with the absolute basics, and gradually pick up the pace, progressing to more and more advanced topics.  I divided the video up into 5 sections, but kept them all together in one 55-minute video.  In my previous multi-part videos, I had to split them into multiple YouTube clips, due to the YouTube length restrictions, but now that they've relaxed those for my account- I hope it'll be better having it all in one video.
Here is the Sketchup file that I used in the tutorial if you're interested: Download sketchup file.
Each section assumes a familiarity with the previous section topics.  Here's the table of contents: