My new Epi Les Paul Tribute Plus arrived yesterday for my birthday, and it's a beauty!  These things are hard to find- none of the local stores have inventory, and every online retailer is backordered.  I managed to get Guitar Center's last one in the country(!) – from the store in Tonawanda, New York.  The store manager there was great- sent me some pics, played it for me to confirm it was all good, gave me a great July 4th discount, and shipped it over for free.   Thanks Chip!
Cosmetically, it's really nice.  Clean, well-defined flamed maple top and cream bindings.  The cherryburst finish looks near-perfect- with rich warm coloring- not the bright overexposed yellow in the pictures at Guitar Center's website.  The Grover locking tuners feel fantastically smooth, and the switch, knobs and jack all seem good.  And after some quick adjustments, it plays pretty well (but still needs some fine tuning).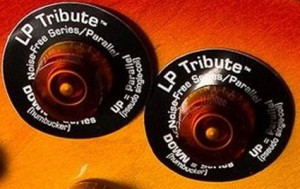 The '57 Classic pickups sound really dynamic, rich and beautiful – they're warm when played gently, and crank when spanked. Love em.  There's quite a range of sounds with the push/pull series/parallel switching on the tone knobs.  When a tone knob is pulled, the humbucker's two coils are wired in parallel giving a lighter, brighter, thinner sound, somewhat reminiscent of a single coil (though different).    It's completely different from the ultra-thick and heavy series-humbucker sound (knob pushed in).  This is a really versatile setup: a total of 8 different sounds using the 3 switches, not to mention the variations you can get by adjusting the volume knobs in the middle switch position.