Following last year's All About Pickup Magnets, here's another excellent article on guitar pickup magnets, courtesy of Pete Biltoft at Vintage Vibe Guitars.   Thanks Pete for the permission to post this here!
In this article, Pete consolidates his own expert research on pickups, along with a bunch of information from the Wikipedia magnet entries and Magnet Kingdom, to give us an overview of magnets in general, as well an in-depth look at AlNiCo magnets for guitar pickups.

June 2011
Howdy!
A recent question from a customer made me think that it was time to go back and review the properties of AlNiCo magnets as used in guitar and bass pickups.
Historical documents suggest ancient Greeks living in the prefecture of Magnesia in Thessaly (modern Manisa, Turkey), first discovered and observed the properties of naturally occurring magnetic materials.
The earliest known surviving descriptions of magnets and their properties are from Greece, India, and China around 2500 years ago. The properties of lodestones and their affinity for iron were written of by Pliny the Elder in his encyclopedia, Naturalis Historia.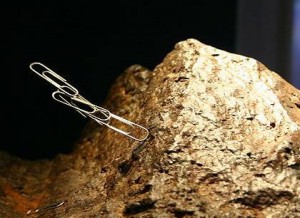 Figure 1. Naturally occurring lodestone attracting paperclips.
First a few magnet basics: