Thursday, January 5th, 2012 at 10:23 am
I was reading the news on Zite this morning, and serendip'd upon this article in The Strad which describes a double-blind test with violinists, comparing several modern violins to those made by Stradivari and a del Gesu.  The scandalously shocking surprise was that many accomplished players unknowingly preferred the modern instruments over the high-value vintage rarities.
Now, I'm not a violin player, but I can appreciate a story about challenging the preconceptions of value in hyper-expensive vintage items over well-crafted lower-priced contemporaries.  It's not so much that they were pitting the modern luthiers against the celebrated ancients;  these were doubtless all well crafted instruments.  The experiment was really challenging the human perception and preconceptions of the study participants.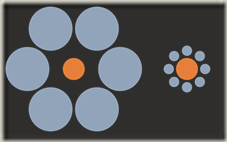 It's an interesting philosophical/psychological question whether it's even possible for the human brain to be objective about anything.  There is a disconnect between perception and reality—our brain is an imperfect interface to the world around us, doing its best to interpret the signals it receives, and occasionally totally falling down on the job.
I'm sure you've seen these great mind-bending optical illusions, like the spinning dancer above (which way is she really spinning?  I see her spinning counter-clockwise, but my wife and kids see her spinning clockwise), or the Ebbinghaus Illusion at left (yes, the orange balls are actually the same size).
But have you heard any good auditory illusions lately?  Try these: