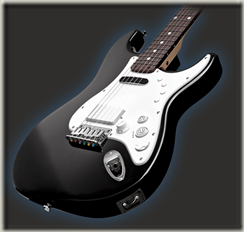 According to a teaser page at Fender's website, the new Squier electric guitar for Rock Band is now officially set for release on March 1, 2011 for $279.99.
I was interested to see that the guitar appears to have a standard MIDI port on the side, and will work as a MIDI controller outside the game.
It will be interesting to see how well this works for learning guitar, with the new Rock Band 3 "Pro" guitar mode.  They say:
"Use the Squier by Fender Stratocaster Guitar and Controller in conjunction with Rock Band™ 3's Trainer Modes to learn scales, chords, skills, drills and more."
Fun fun fun!