I just got back from the 2011 NAMM show.  There was a great buzz about the KRONOS throughout the show- a really nice way to celebrate the announcement of the product.
It was truly inspiring to see and hear some great musicians playing KRONOS, including Korg's own Steve McNally, Jack Hotop and Rich Formidoni.   But the highlight for me was getting into the packed standing-room-only demo room while Jordan Rudess of Dream Theater talked about his inspirations and masterfully improvised on the KRONOS.
I captured this video on my handheld camcorder.  Unfortunately it's only using the built-in mic, so the audio isn't great.  And people kept bumping into me!   But in spite of that, Jordan's musicality and skill shine through, as do the fantastic sounds and capabilities of KRONOS.   Enjoy!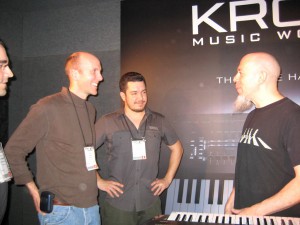 I think in this picture, I was saying "sorry about that voice stealing bug we heard during your playing-  I just tweaked the stealing algorithm, so it'll be fixed in the next update!" 

  Thankfully, he was very understanding, and was asking Rich "When can I get one?  No seriously, when?"