Thursday, October 20th, 2016 at 10:03 pm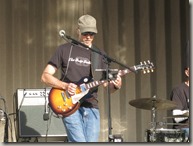 My band plays a number of outdoor gigs every year, and I usually need to wear sunglasses to survive the gig.
Aside from the sunlight-triggered-wah-freakout issue I wrote about last year, the HD500X works fairly well in the sun. The light rings around the footswitches tend to disappear in bright light, but the main display seems to maintain reasonable visibility.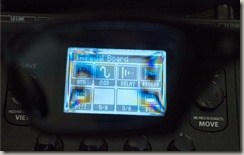 However, I usually wear sunglasses (and a hat!) at sunny gigs.  My sunglasses are polarized, and this causes the HD500X display to show weird discolored bands, obscuring the display.
The picture at right was taken holding my sunglasses in front of the camera lens.  As you can see, weird stuff happens in the corners of the display.