Thursday, June 28th, 2012 at 9:03 am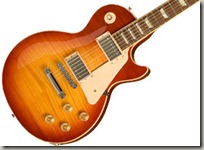 A couple months ago, I had an unexpected revelation.  An eye-opening, earth-shaking, revolutionary enlightenment.   Ok, maybe I'm exaggerating and obsessing, but it was an honest-to-goodness WTF!
I was at a local music shop (ok, I admit it was Best Buy), and out of curiosity, I picked up an absurdly expensive Gibson Les Paul Traditional from the wall-o-guitars, plugged it into a Vox Night Train, and gave it a spin.  I've never really given the Les Paul guitars much attention.  Despite their iconic status and near ubiquity, I've always thought the Les Paul was just too heavy to consider. But…
I was shocked! This guitar had so much sustain, it felt like there must be an active sustainer circuit in there.  But no- just passive '57 Classic humbuckers, a Nashville Tune-o-matic, and a whole bunch of mahogany and maple.  I was stunned. I always thought my G&L ASAT III with its Saddle-Lock bridge and my Vox SSC-55 with its MaxConnect bridge both had reasonably good sustain, but this was in a whole 'nother league.   It actually felt like a different breed of instrument, one that may even require a different playing style to accommodate and leverage such an impressive sustain.  And those 57 Classics sounded fantastic!
So, ok, I walked out of there telling Chunling "Wow- that was mind-blowing.  But $2400, forget about it!!"  I convinced myself to let it go, and stopped thinking about it. Until…