Friday, September 25th, 2015 at 4:06 pm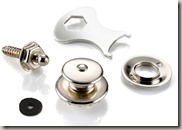 Strap locks are an indispensable investment for any guitar. There's nothing worse than having your strap twist free, and your guitar drop to the ground.
On my Les Pauls, I used the Dunlop Dual Design strap locks. They worked fine for a Les Paul, as they attached on the guitar horn, rather than on the back of the guitar.  But on my new SG, I needed something different.