Thursday, September 17th, 2009 at 8:30 am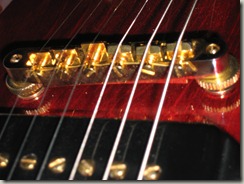 The retainer wire on a standard Tune-o-matic bridge can buzz and rattle if the bridge isn't machined to perfection.
I didn't expect this to bother me as much as it does.  The buzz doesn't come through the amp, but I don't usually play very loud, so hearing a buzzy rattle from the bridge results in a real lack of clarity in the sound I'm hearing.