Sunday, October 26th, 2014 at 10:15 pm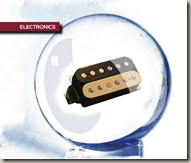 I often refer to (and recommend) Helmuth Lemme's article The Secrets of Electric Guitar Pickups.  The author succinctly describes the guitar circuit and discusses how each component of the circuit contributes to the resulting guitar tone.
Mr. Lemme recently got in touch with me, and forwarded me a new article Pickup Measuring Techniques that he wrote for Sustain Magazine.   The author discusses methods of characterizing the quality of pickups- from the useful (inductance) to the not so useful (DC resistance).  He also describes a Pickup Analyzer device for measuring pickups which generates an alternating magnetic field across the entire audible frequency spectrum and captures the results from the pickup, with a selectable load capacitance.  Neat!  Click here to read the article.  Thanks to the author for permission to share his article here with you.
Helmuth Lemme also has written a book- Electric Guitar Sound Secrets and Technology.