Monday, October 26th, 2015 at 10:31 pm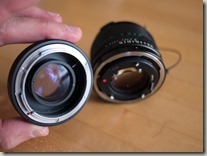 Last month I wrote about my new Panasonic G7, and how I was having good success in low-light video.  I'm using an old inexpensive manual Canon FD 50mm f/1.4 lens, along with an Fotasy FD – M4/3 adapter. 
At our last night-time gig, I had to position the camera really far away for the 100mm focal length to fit the entire band in the frame.
So in preparation to video our Halloween gig, I purchased a different type of adapter – a Focal Reducer Speed Booster With Optical Glass Lens Adapter for Canon FD to Micro 4/3. This is an inexpensive version of the Metabones Speed Booster.
This type of adapter reduces the focal length by a factor of 0.71x, and increases aperture siimilarly.  So this Canon FD 50mm lens is equivalent to a 100mm with the micro 4/3 crop. This makes it challenging to frame a wide shot, unless you get really far away.  But this speed booster reduces that focal length to 71mm.  And the maximum aperture f/1.4 is boosted to around f/1.0.  That's crazy!