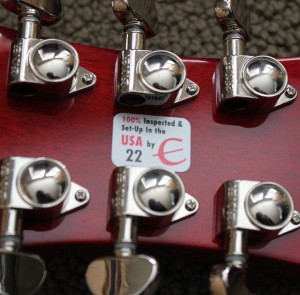 The factory setup on my new Epiphone Les Paul Tribute Plus definitely needs some work.  Fortunately, it's not quite as bad as my Riviera's original factory setup.  Thank you inspector #22 in the USA 🙂
For these measurements, I'm using a capo set of feeler gauges like this set from Grizzly.
Here's what it looked like, right out of the box:

the open action at the 17th fret was .101" on the high E and .083" on the low E.
the nut seems to be cut just about right. With a capo on the 3rd fret and measuring at the 1st fret, it's about .002" on the high E and .006" on the low E.   Or measured open at the first fret, it's .015" on the high E and .028" on the low E
the truss rod was was .011" at the 7th fret, with capo on 1st and finger on 22nd.
the intonation was completely whacked.
The pickup heights were carelessly set. The neck pickup was angled to be too high close to the strings on the low side and too low on the high side, resulting in a boomy unbalanced sound.
The pickup pole pieces were haphazardly adjusted.
So how does Gibson set up its Les Pauls at the factory?  In a post to the Gibson Talk forums, Davomite, the final inspector at Gibson Memphis posted the following factory setup notes (I added the purple decimal inch values in parentheses):