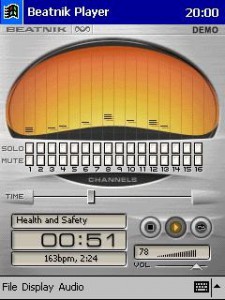 There's nothing quite like the experience of hearing the individual source tracks from a song you've known and loved all your life.
My first such experience was around the year 2000, while working at Thomas Dolby's company Beatnik.  I developed the mobile Beatnik Player (shown at right) and the Beatnik Editor which was used to produce a web-remix version of David Bowie's Fame. This was waaay before the days of Rock Band and downloadable "stems" of Radiohead songs.  It was mind-blowing to be able to solo the individual guitar riffs and drum tracks, and hear Bowie's and Lennon's voices isolated.
Update: Feb 10, 2012, I dug up the old Beatnik Fame RMF file and posted a recording of it here.
When iconic songs are so deeply internalized from a lifetime of listening- as is the case for me with most of the Beatles' catalog- it's almost surreal to hear the individual tracks. When listening to Beatles recordings in stereo, I often can't resist adjusting the balance all the way to the left or right, to isolate the drums and guitars away from the voices, etc. You can get a bigger taste of this with Beatles Rock Band, if you have the patience to play a plastic guitar.
Recently my daughter Emily has fallen in love with Here Comes The Sun.  I think they had her at "little darling", but it's easy to see how a six year old can be swept away by such an unabashedly optimistic and joyful song.   This morning, I happened to come across this video, in which Beatles producer George Martin and his son Giles, as well as George Harrison's son Dhani, are listening to the source tracks from this wonderful song, and unexpectedly discover a take of George's guitar that never made it into the final mix.  The look of on Dhani's face is exactly what I'm talking about.  Magic.  Take a look: