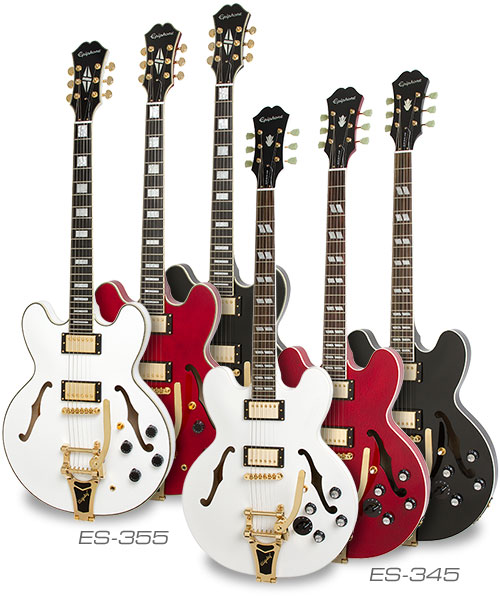 When I purchased my Riviera P93, what I really wanted was a semi-hollowbody in the traditional Gibson ES shape, with a Bigsby tailpiece.   I didn't want to invest the extra several thousand dollars in a Gibson, and the only model available from Epiphone was the Riviera P93.
I took a chance on the P93, and as you may have seen in my blog, it turned into quite a project trying to improve its sound.  In the end, even after replacing the pickups and electronics, I am ultimately frustrated by the three pickup, three volume, one tone configuration.  I would have preferred the traditional two humbuckers, two volume, two tone configuration.
I still haven't completed my planned changes to improve the usability of the middle pickup, nor have I replaced the buzzy bridge with the roller.  Changing these three pickups to two humbuckers is certainly possible, but the result would be less than beautiful due to the different hole-spacing and routing requirements of dog-eared P-90's versus humbuckers.
A couple months back, Epiphone announced the guitar which I wish had been available when I purchased the Riviera P93: the new Epiphone ES-355…
The ES-355 is a very similar guitar to my Riviera P93.  Both have the ES shaped maple laminate body and mahogany 12" radius neck with SlimTaper "D" profile, and a gold Bigsby B70 tremelo.   These are the differences:
two humbuckers instead of the three P-90's
ebony fretboard with block inlays instead of the P93's rosewood with parallelogram inlays
fancier 5-layer body, neck and headstock binding versus the 1-layer binding on the P93
split diamond headstock inlay versus the crown inlay on the P93
black speed knobs instead of the P93 vintage gold hat knobs
Also available is the ES-345 which adds a VariTone control and separate mono/stereo outputs like BB King's Lucille, but has simpler 1-layer bindings, crown headstock inlay, double parallelogram inlays, and plastic tulip tuner keys.
The new LockTone bridge (claimed to be in all Epis since 2011) sounds like a definite improvement over the older Tune-o-Matic on my P93.
Pricing today (shown in these screen grabs from Musician's Friend): these new guitars are $200 more than the P93- I would like to understand better the reasons for this difference.  (Ebony costs a little more than rosewood, multi-layer bindings are more labor intensive, but can that fully explain it?)   And, they are $3500 less than the comparable Gibson- a difference that I can sort of understand (being handmade in USA), but will likely never be able to wrap my head around.
So what will I do? I'm not running to sell my Riviera P93 just yet, but it's a possibility.  Lately, I'm actually playing a Vox SSC-55 (as you may have seen in my recent Jamman Delay video).  Honestly, every time I return to the P93, it just feels, well, disappointing.  More on the SSC-55 on another day.
For now, I will leave you with some fine facts about the ES series, courtesy of Gibson.
Who knew that ES stands for "Electric Spanish" ?!?!