Tuesday, June 9th, 2015 at 9:25 am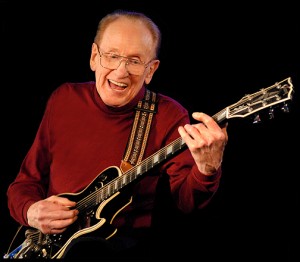 Today, Les Paul would've been 100 years old.
One of the many inspiring stories about Les Paul: at the young age of 33, he was in a terrible car accident and shattered his right arm and elbow.  They couldn't rebuild his elbow and he was offered the choice to amputate.  Instead he had them set his arm permanently at a 90 degree angle so he could still play guitar. Despite the long recovery and his "handicap", he continued to play guitar until his death at age 94.  That's dedication!
I still play my Les Paul every day, and am thankful for Les' numerous contributions to our musical world – from his innovations with the electric guitar and multi-track recording, to his love of making and sharing music.   Happy Birthday Les!