Tuesday, June 24th, 2014 at 10:35 pm

I mentioned in a recent post how frustrating it is to mix live sound with my band, The Drop Daddies. After helping a buddy's band with their recent ballroom sound check and being stunned by how good their sound was- I became very motivated to research and assemble a new PA for our live rig.   Well, the results are in. and the difference is astonishing!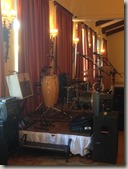 Prior to the new setup, we had been using an old powered Mackie 808s mixer, driving a pair of enormous passive Cerwin Vega 3-way 18" speaker cabinets.  We didn't mic the guitar cabs effectively, so we had to blast the amps on stage to be heard in the back.  The result was a mushy mix, very prone to feedback because of high stage volume and lack of gates on the mic's.  And it was a chore to adjust the mix, with the mixer installed at the back of the stage.  The mixer was underpowered to drive the speaker cabs, and the cabs were so heavy that we couldn't get them up on stands, so the sound was directed at people's knees.
What a mess!  We could never get a well-balanced mix- vocals were easily buried in the mix; you could rarely hear the harmonica loud enough;  the rhythm guitar was usually lost in the mix; and my lead guitar struggled to reach the whole room.  We bought a Feedback Destroyer to try to reduce feedback in the monitors, which certainly helped a bit, but was really just a bandaid.