Wednesday, September 9th, 2009 at 6:31 pm
Speaking with Pete Biltoft at Vintage Vibe Guitars about possible dog-eared P-90 pickup replacements for the Riviera P93, Pete recommended I first try bypassing the guitar's electronics to see if they're sucking the tone away.   This experiment requires disconnecting the pickup wire from the electronics, and routing it directly to the output jack.  The results are interesting.   Read on for pictures, and audio, video before/after.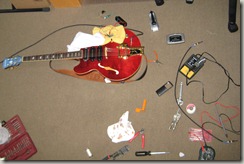 Gathering my tools, started to feel a little crazy!   Soldering iron and solder, needle nose pliers, locking pliers, big and small phillips screwdrivers, wrench, wire stripper, multi meter, alligator clips, 1/4" jack, magnifying glass, flashlight, tuner, string winder, spool of thread, soft cloths.
I did all my work on the floor – bad idea!  Why am I always too lazy to clear off a table top before starting?