More on selecting pots, and evaluating tapers
Friday, October 16th, 2009 at 5:58 pm
Here's part 2 of my potentiometer project.  In this one, I compare linear and audio tapers, and compare the different audio tapers of Alpha, JS, Bourns and CTS pots.   Then I go over a bunch of other factors to consider when buying new pots- tolerances, dimensions, shaft types, etc.
While preparing for this video, I mounted a numbered knob on a bunch of different pots, and measured them on my multimeter at each knob position 0-10.  Verrry interesting.  The knobs on my Epiphone Riviera P93 were Alpha and JS, and these pots exhibit nearly linear behavior – unlike the Bourns and CTS which have much nicer audio taper curves.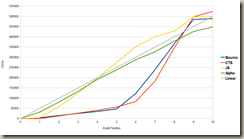 This may explain part of the reason why, in my treble bleed video, I was unable to get the Epi to clean up as well as my G&L ASAT.  With the knob on 1, the Epi is way louder than a good audio-taper pot.
Meanwhile, I've got all the CTS pots wired up and am now getting ready to install new pickups.  Gotta catch up on all the video editing, over the next couple weeks – stay tuned!

Tagged with: Electronics • Epiphone Riviera P93 • Video
Filed under: Guitar