Before I put my old Takamine acoustic up for sale, I want to give it a little TLC. This guitar has its fair share of battle scars. There are a few larger dings which I'm not going to attempt to repair. But it has tons of little scratches that I should be able to do something about.
I've tried various guitar polishes over the years and it seems that they're really just intended to put a shine on an otherwise unscratched guitar.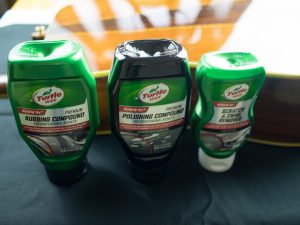 So this time, I decided to experiment with some inexpensive Turtle Wax auto polishing compounds. Importantly, these are all silicone free. You don't want silicone in your polish as it will prevent future finish repairs. Nothing sticks to silicone- not even silicone!
Turtle Wax is just what I could find in the store. There are comparable silicone-free products available from Meguiar's, Mothers, 3M, etc. (links below).
Please note- this is the first time I've tried this polishing experiment, and I'm not necessarily recommending this process for all guitars and finishes. I'm guessing you won't want to try this on your $3000 custom shop special.
That said, if you do want to try it, just be sure to do a small test on the back before doing the whole guitar. Proceed with caution!

Here are links to the products shown in this video:
I'm really happy with the outcome. Here are some pictures of the result:
Not bad for a nearly 40 year old guitar! I also used the same polishing process on the soft plastic of the pick guard:
And also on the plastic screen of my Line 6 HD500X floor modeler: