Les' Sustain for Days
Thursday, June 28th, 2012 at 9:03 am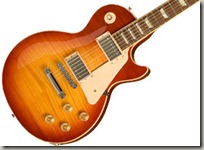 A couple months ago, I had an unexpected revelation.  An eye-opening, earth-shaking, revolutionary enlightenment.   Ok, maybe I'm exaggerating and obsessing, but it was an honest-to-goodness WTF!
I was at a local music shop (ok, I admit it was Best Buy), and out of curiosity, I picked up an absurdly expensive Gibson Les Paul Traditional from the wall-o-guitars, plugged it into a Vox Night Train, and gave it a spin.  I've never really given the Les Paul guitars much attention.  Despite their iconic status and near ubiquity, I've always thought the Les Paul was just too heavy to consider. But…
I was shocked! This guitar had so much sustain, it felt like there must be an active sustainer circuit in there.  But no- just passive '57 Classic humbuckers, a Nashville Tune-o-matic, and a whole bunch of mahogany and maple.  I was stunned. I always thought my G&L ASAT III with its Saddle-Lock bridge and my Vox SSC-55 with its MaxConnect bridge both had reasonably good sustain, but this was in a whole 'nother league.   It actually felt like a different breed of instrument, one that may even require a different playing style to accommodate and leverage such an impressive sustain.  And those 57 Classics sounded fantastic!
So, ok, I walked out of there telling Chunling "Wow- that was mind-blowing.  But $2400, forget about it!!"  I convinced myself to let it go, and stopped thinking about it. Until…
Last week, I was flipping through Musician's Friend, and found myself absent-mindedly checking the Les Paul's.  There's a bewildering assortment (currently 205 listings!) of Les Paul models, both from Gibson and Epiphone.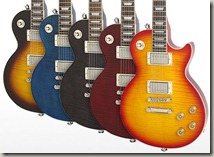 One in particular caught my eye- the Epiphone Les Paul 1960 Tribute Plus.  It's impressively distinct from most of the made-in-China Epiphones in that it uses the exact same Gibson USA '57 Classic humbuckers and high quality Switchcraft switch and jack as the Gibson Traditional.  It also has a full thickness carved maple cap with flame maple veneer, over a solid unchambered mahogany body, and the mahogany neck is attached to the body with a deep-set mortise and tenon joint.  So in appearance, build, weight and electronics, it's very similar in quality to that Gibson I played.  And it comes with a nice hard case too.
Of course, the Gibson would be using a one piece solid flamed maple top instead of the combination of maple and flamed veneer, and a single-piece quartersawn mahogany neck.  It also has the Nashvile TOM instead of Epiphone's LockTone TOM, receives a full Plek treatment at the factory, has nitrocellulose finish instead of polyurethane, and it's made in the USA instead of China.   And it's more than four times as expensive, woohoo!
Aside from price, the Epiphone model actually has a few advantages (in my opinion anyway) over the Gibson: it comes stock with Grover 18:1 locking tuners instead of the vintage-style Kluson's (not my favorite), and push/pull tone pots wired for series/parallel switching for both humbuckers.    And the Epiphone neck has the 1960's SlimTaper rounded D profile instead of the slightly chunkier 1950's neck (I prefer slimmer).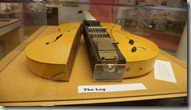 And let's not forget that Les Paul invented his first electric guitar ("The Log") at the Epiphone factory in New York City in 1940, and Gibson wasn't even interested when he approached them, until later in 1952.   Just sayin

Apparently, this Epiphone Les Paul Tribute Plus model replaces the previous Tribute model, which was nearly identical but without the flame-top and speed knobs.   Update 7/11/12: Other differences I hadn't noticed before:  the Plus neck has a 14" radius instead of 12", jumbo frets instead of medium jumbo, and is attached to the body with a deep-set mortise & tenon joint, instead of a "traditional dovetail" on the standard.  I had a chance to play one of those this week and was very impressed with the excellent sound and sustain, and the range of tones from those '57 Classics with the series/parallel switches.  For a quarter the cost of the Gibson.  Awesome!
I'm sold, and better yet, Chunling says she wants to get me the Cherryburst Tribute Plus for my birthday ($499 after the extra $100 off for July 4).  How about that?

  More news as it happens!
Update 7/11/12: It's here!  http://www.planetz.com/a-worthy-tribute
Tagged with: Bridge • G&L ASAT III • Guitar • Les Paul • Sustain • Vox
Filed under: Guitar