When the Helix arrived, I borrowed a JBL EON 610 full-range powered speaker to work with, and I really liked the sound I was getting with it.
However, as I started to go through the many hours of work preparing presets for the Drop Daddies' setlist, I found that the continuous hiss coming from the EON's tweeter was causing significant ear fatigue.
The hiss is omnipresent- regardless of EQ selection, line/mic button, and channel/master volume position. I connected to the speaker using the EON Connect app on my iPhone and confirmed that the firmware was up to date, and everything was set to defaults.
At rehearsal and on stage, this hiss is unnoticeable – not a problem. But in a quiet room, with the speaker angled towards my ears, the hiss becomes pretty obnoxious.  Here's a recording:
I then borrowed an EON 612 to see if it was any different.  To my dismay, the 612 just sounded terrible- fizzy and easily distorted. And even when dimed, it just wasn't very loud – no where near the sound quality and volume of the EON 610. The EON Connect app could see the 612, but refused to connect to it.  WTF?  After a lot of head scratching and googling, I found the instructions to do a factory reset buried in the back of the EON Connect (Beta) User Guide:
While powering up the speaker, holding EQ+ and Boot buttons will return the speaker to factory default settings. When the reset begins all LEDs will blink on the speaker control panel. This procedure can be utilized as a backdoor to restoring reliable behavior.
The factory reset did indeed get the 612 working properly, and then it sounded great and loud as hell- so I guess its brains were just scrambled. But having to reboot my speaker doesn't give me a great sense of confidence.
And after all that, the hiss was even louder than the 610.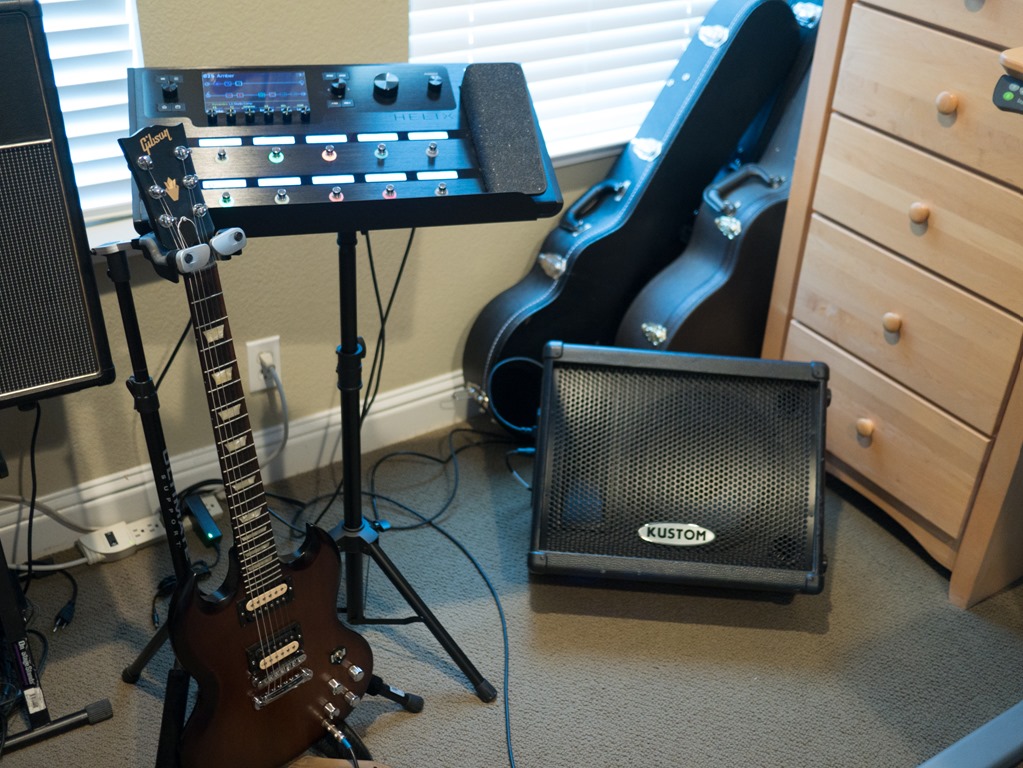 So I guess the JBL EON series just isn't for me.  I'll be on the hunt for something better.
Meanwhile, I'm using an old 12" powered 2-way Kustom monitor which is anything but flat (way too bright), but it'll do until I find something better.  Bonus- it has hardly any hiss.