What the Bleedin' Treble!
Tuesday, September 29th, 2009 at 10:20 pm
In part one of this, video I explain what treble bleed is, and how to evaluate and select the right cap.  I demonstrate my G&L ASAT III which has a treble bleed cap on the master volume, and I compare that with my Epiphone Riviera P93 which has no treble bleed caps (yet).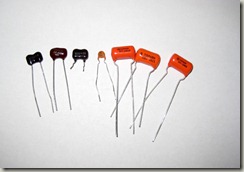 The caps I tried are (as shown left to right): Silver Mica 100pf, 390pf and 1000pf, a tiny 1000pf ceramic cap, and Sprague Orange Drop (polypropylene) 1000pf, 3300pf, and 6800pf.
The tolerances on the caps are a bit all over the place.  I measured the 1000pf caps on my DMM and all were closer to 1250.  The 100pf silver mica was over 250!  This is assuming I can trust my Mastech DMM.
Higher capacitance here lowers the cutoff frequency of the filter, allowing lower frequencies to pass through.   So you can hear more mids in the audio as I increase the capacitor value.    Comparing the 1000pf ceramic, silver mica and Orange Drop, I really don't hear much difference.  I'm inclined to use the Orange Drop anyway for long term reliability, and because I have a few of them here.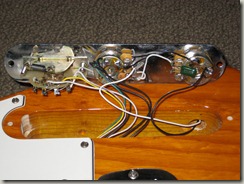 The G&L's treble bleed (shown here) uses a ceramic capacitor of only 200pf, allowing just the highest frequencies to pass.  It's a solid body guitar with very bright ceramic-magnet pickups.  When the volume knob is turned down, it really cleans up well, and is extremely bright.
While the 1000pf cap really improves the brightness of the Epi bridge pickup at low volume, it's still pretty boomy and distorted.  I guess that these pickups have a hotter low-end than the G&L.  In other words, I need to turn down the gain on the amp to get it to really clean up at lower volumes.
I didn't try the resistor in parallel with the cap on the Epi, since there was already more than enough low frequencies getting through at low volumes.  I did try adding a 100k and 300k resistor in parallel with the G&L's 200pf cap, and these dramatically changed the sound, increasing the lows and mids passed through at low volume.  The result was also more volume, and more distortion, so I ended up leaving out the resistors.
In the next post, I'll show how to install a treble bleed cap.
For some more background info, take a look at Alan Ratcliffe's article on treble bleed.
Tagged with: Electronics • Epiphone Riviera P93 • G&L ASAT III • Video
Filed under: Guitar