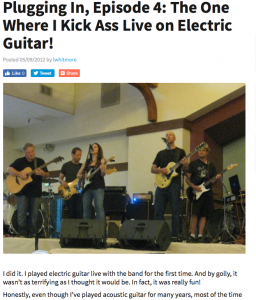 Rhymes with Guitar World!
Our singer, Laura Whitmore, has been writing a blog at Guitar World for about a year now.  Lately she's been writing about her transition from playing acoustic guitar to playing electric in our band, The Summer Music Project.
Yesterday, Laura wrote an article for Guitar World about her experience playing and singing at our recent gig.
Funny that, for this brief moment, our little band is on the front page of Guitar World!
She included a video of us playing her song "Don't Take it Easy".   The audio is really bad, as we were using the built-in camera mic, from the back of the hall about 50 feet away.   Unfortunately, my Tascam DR-40 digital recorder was sitting in standby for the whole show- gotta press record TWICE damnit!   I of course wish I could hear my guitar better, but the important thing in this video is that we can hear Laura reasonably well.
Here's that video: