PSA: don't buy a cheap toy ukulele! You don't have to spend a fortune to get a well-made ukulele, but you're not going to find it at a toy store. If you're hoping to be inspired to learn, and to have fun playing, you don't want to be fighting with a poorly-made toy.
This scenario has come up several times with friends. They've just bought a shiny new ukulele and excitedly ask me to help them tune it up. Then, after my futile attempts to get it ready to play, I have to tell them it's a lost cause. Aside from the crappy tuning machines that won't hold their tune, the action is ridiculously high and the fret-spacing is whack. They're sad for a minute and probably think I'm a music snob, but it's worth it to point them in the right direction. And in the end, they're much happier.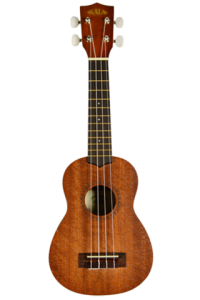 Invariably, I suggest this inexpensive uke – the Kala KA-15S Mahogany Soprano Ukulele. It's only $45 at the time of this writing- not much more than the $30 uke at the toy store, but sooooo much better. It forgoes fancy binding, inlays and artwork, and invests in the necessities- a mahogany body and neck, rosewood fretboard, brass frets and Graphtech nut. I bought the KA-15S back in 2014, and it has been rock solid, sounds nice and is easy to play.
Kala Music Company is a legit California-based instrument builder specializing in 4-string ukuleles and uke-inspired instruments. True- they are not based in Hawaii, and they manufacture their less-expensive instruments in China. But it's clear they are passionate about ukuleles and are singularly focused on making great instruments. I've played their ukes at the annual NAMM show, from their inexpensive water-proof ABS-composite Watermans all the way up to their Elite-series California-built solid wood ukes and they are consistently nice instruments, across the board.
For anyone looking to try a uke without breaking the bank, I heartily recommend the Kala KA-15S !