Tuesday, December 16th, 2014 at 8:45 pm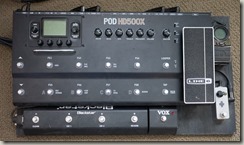 I'm massively downsizing my stage footprint! This new pedal board will be much simpler- focused around my new Line 6 HD500X, and the footswitch controller for my Blackstar Stage 60.
The only pedals left on the board are my Planet Waves Tru-Strobe tuner and DIY clean boost.
I've got the Stage 60's 4-footswitch controller up front, along with an additional switch for the lead boost on channel 3 (repurposed from my VOX AC15, with a red LED added).
The problem as you can see here is that the Stage 60 footswitch is taller than the HD500X.  If I just sit them on the board next to each other, the Stage 60 switches are uncomfortably high relative to the front row of switches on the HD500X, making them hard to reach.
So I decided to put the whole HD500X on risers.  Here's how: