Wednesday, June 12th, 2013 at 7:34 pm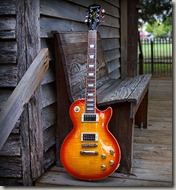 After nearly a year, I'm still loving my Epiphone Les Paul 1960 Tribute Plus.  I've played a number of gigs with it and it has proven itself absolutely reliable and roadworthy.  It has really excelled in every situation – loud indoor gigs, scorchin hot outdoor summer gigs, and of course my everyday practice, both unplugged and amplified.
This model seems to be a diamond in the rough at Epiphone- a truly great collection of features, including the awesome Gibson '57 Classic pickups, for a very competitive price.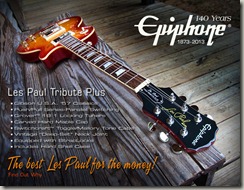 I've often wondered why I haven't seen Epiphone really promoting this model as much as it deserves.   Well today, I noticed that it's currently featured on the front page of Epiphone's website, as part of their 140 years (1873-2013) anniversary.  There's a nice write up with a few choice quotes from Les Paul, and some gorgeous pictures. 
Maybe they've finally decided to seriously promote this gem of a guitar!