In pedal building, we almost exclusively see the Hammond-style diecast aluminum enclosures.  You know their names- the ubiquitous 1590B (aka 1290NS) and its plus-size cousin the 125B.  Then there's the larger 1590BB, and the tiny and temperamental 1590A.     What these all have in common is the simple generic rectangular shape.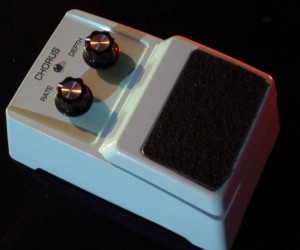 But what if you're a fan of the spring-loaded foot-pedal enclosures made famous by the BOSS and Ibanez pedals?
Typically, the only way for DIY pedal builders to achieve that look was to buy an old pedal and gut it- but then you're stuck with the original pedal's drilling layout.
Now there's a new option- I just came across these new enclosures from Rixen Pedals.