Sunday, December 15th, 2013 at 9:41 pm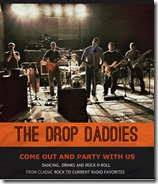 It's been a very busy year. I haven't had much time for making videos and posting blog updates.  Here's why:
About a year ago, I started up a band – the Drop Daddies – with some of the other Dad's at our kids' elementary school.  Originally, the idea was just to get together on weekends to play some music and have fun.  Almost immediately however, a friend invited us to play at her 2012 end-of-the-world party.   That humble little gig by the Christmas tree kicked off a very busy year for the band.  So far, we've learned 60+ songs and played at least a dozen gigs- bars, an auction, carnivals, and parties large and small.
A few observations – each of which should be its own blog post, but I'll collect them here for now and maybe expand on them later: