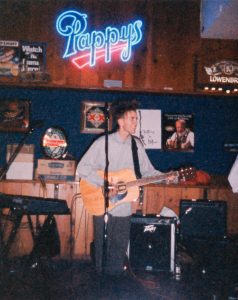 I bought my very first guitar for $200 in 1985, at Spitzer's Music in Concord. At the time, I thought of myself as a keyboard player and was pretty clueless about guitar. But I loved the sound of guitar, and really wanted to be a part of that world. The salesman at Spitzer recommended this used 1978 Takamine F-375S, and I just took his word for it.
I learned to play guitar on this Takamine, and over the years I've written songs on it, and played it on stage and around the campfire. This picture is a little time capsule, playing with my college band Falling In Blue in a bar at UC Berkeley in 1989.
It's a pretty guitar, with it's spruce top and 3-piece back (rosewood and jacaranda). And it has that big booming dreadnought sound. But honestly, it has always been a bit of a bear to play with its high action and chubby neck.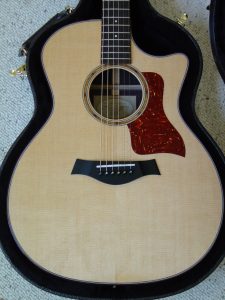 Since I bought my Taylor 714CE in 2003, I've hardly touched my old Takamine. The Taylor is a joy to play- it sounds and feels amazing. And it's just a gorgeous guitar.
Aside from our piano, the Taylor is the most expensive musical instrument I've ever purchased (even with my music industry discount). So needless to say, it hardly ever leaves the house! So when we go camping, the Takamine gets called back to duty.
I know I have a tendency to be sentimental about things like first guitar. So I could end up just keeping the Takamine in the closet forever, even though I don't really enjoy playing it. But this time, I'm going to fight that maudlin instinct, and… "out with the old, in with the new".
This 1978 Takamine appears to have some value as a vintage guitar – it was built during the Takamine "lawsuit era" (in which Takamine had copied the Martin trademark square headstock and logo). A collector, or a fan of Takamine will certainly enjoy this guitar more than I do.
So, I'm selling it, and will use the proceeds to buy a new acoustic that I can take camping or to open-mic – one that will be more inspiring to play, but not so expensive that I'll have to worry about damage or theft.
Farewell first guitar!