I have loved playing through my Blackstar Stage 60, but it is time to let it go. I'm trying not to be sentimental about gear- if I'm not using it, it should go.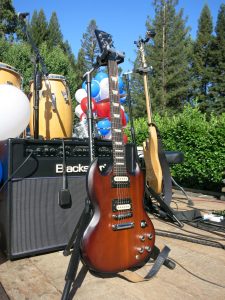 My Gibson SG was somehow perfectly matched with the Blackstar. I've been continually impressed with the sound of this rig. From pearly-white cleans to raging high-gain leads, and everywhere in between. And the most musical feedback I've ever experienced.
In the last three years, I've played with the Blackstar in venues large and small, in grassy parks, on the back of parade trucks, and in garages and living rooms. It has been rock solid and never let me down.
Now having said all that, since I bought the Helix the Blackstar been sitting against the wall of my office collecting dust. I can't tell you how delightful it is to not have to lug that 80 pound monster to to rehearsals and gigs. My back and hands are grateful! My stage footprint is so much smaller, and set up is a breeze – way fewer cables and no extra cab mic to set up. And the mix in my ears is clearer, not competing with the blast of air at my back.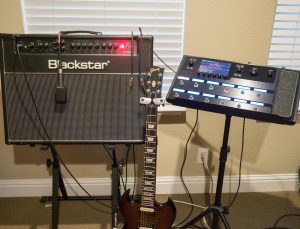 The Helix sounds phenomenal, and is much more flexible than my old 4-cable amp setup with the Pod HD500x. When I first got the Helix, I was amazed how quickly I made a preset to cover the sounds I had been getting with the Blackstar.
The only thing I really miss from the Blackstar is that lovely musical feedback. That feeling you get when you take your fingers off the strings on a high gain sound, and gradually build up a raging gorgeous feedback. I haven't really been able to get that with the Helix – I imagine it's possible, but I haven't found the magic ingredients. In any case, I've decided it's a reasonable trade-off.
So now, on the 3 year anniversary of the Stage 60 arriving at my door, I bid farewell to this beast. I put it on Craigslist, found a buyer, and away it goes.