Last night, I received this rather nefarious "content ID match" email from the youtube content-matching bots:
Dear johnplanetz,

Your video, Simple JFET Preamp for an iDevice guitar Interface, part 2, may have content that is owned or licensed by Spinnin' Records.

No action is required on your part; however, if you are interested in learning how this affects your video, please visit the Content ID Matches section of your account for more information.

Sincerely,
– The YouTube Team
If I'm reading that right, they're saying that if I don't do anything, the guys at Spinnin' Records can hijack and monetize my video, and start making money from my work.  Niiiiice!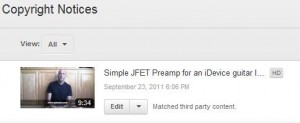 I'm generally very careful in my videos to avoid copyright issues.  My intro/outro music is all composed and performed by me.  And the guitar riffs I play are usually just improvisations or noodling, or perhaps inspired by another song (as with the riff inspired by Faces' Had Me  A Real Good Time at the beginning of my K-Tone Travel Guitar review).
Very occasionally, I'll play a short riff by another artist, but this should be covered under fair use.  For example, I played a bit of Weezer's Say It Ain't So in my treble bleed video, and a riff from Oasis' Champagne Supernova in my AC15 cabinets video.

As I was initiating the dispute process,
I noticed that the content ID match was actually for "visual content".  Ok, riddle me this- what part of the visuals in my video could possibly be owned by Spinnin' Records?!  The only thing in there that I borrowed from another source was a brief shot of the MPF102 datasheet from Fairchild Semiconductor.   I doubt Spinnin' Records owns copyright on that! 🙂
Ok, so I filed a dispute:
Dispute Status: Submitted

1. This video does not feature the third-party copyrighted material at issue. My video was misidentified as containing this material.

Signature
John S. Cooper

Statement of Good Faith
I have a good faith belief that the material was disabled as a result of a mistake or misidentification, and that I am not intentionally abusing this dispute process.
I'm very interested to see how this pans out.   On the one hand, I'm intrigued and impressed by the technology involved to implement this automated content matching.  Take a look this TED talk about their system.
On the other hand, it's obvious that this automated system is imperfect- and when the power is given entirely to the copyright registrants, the end result is horrifically unfair.  While researching my options, I came across this article in Wired (coincidentally also posted yesterday), about a guy whose completely innocent wild salad foraging video was incorrectly content-ID matched, and his dispute was denied by the "copyright owner".  It all turned out ok in the end, but only after his story was brought to international attention.