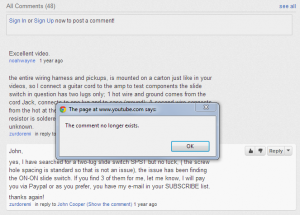 [Update 10/11/2012:  What a relief!  All my old YouTube comments appear to have been restored successfully.  Thanks to the YouTube team for correcting the situation so promptly.]
[Update 10/10/2012: Some news: I received an email from the youtube team saying "A small number of YouTube users may have had their comments deleted as a result of an error on our part". They sent a link to a reinstatement form, which I submitted, and I now wait with fingers crossed for a speedy and successful recovery. Here's a link to that form, if you feel you've also been affected by this issue!]
Today I noticed something completely depressing!  I was looking back at some older comments on one of my videos and I noticed that none of my comments were there. When I clicked on someone's reply to one of my comments "in reply to John Cooper (Show the comment)", it popped up a dialog saying "The comment no longer exists".
I go to a lot of trouble to respond to questions, and reply to as many comments as I can on my YouTube videos.   Over the last few years, I've written hundreds if not thousands of replies and comments.  It's sad to see all that content disappear, and all the back-and-forth conversations that now look broken and one-sided.
A few weeks ago, when I logged into my YouTube channel, it asked me change over to using a Google+ profile, and changed my YouTube username from johnplanetz to John Cooper.   Ok, so I did that – it didn't appear that I had a choice.  Did that cause all my comments to be deleted?   (If so, I didn't immediately notice it).   It gave me no indication that it would delete everything!
As an experiment, I just tried unlinking my account from Google+ and set it back to johnplanetz, instead of "John Cooper".   My comments are still gone.  And the next time I connected, it asked me again if I wanted to link to my Google+ profile. Reading through it, it clearly indicates that my comments will NOT be deleted- just that my name on them will change from johnplanetz to John Cooper.   It also indicates that I only have 64 comments, when I really should have hundreds (or thousands).
At least I have all of the YouTube comments copied at my planetz blog comments, but most people read the comments at YouTube rather than here.  And now the conversations on the YouTube website itself are completely messed up!
I've sent a query to YouTube tech support, but it's not likely I'll hear back.
[Update 10/11/2012– Honestly, I'm surprised that the YouTube team was able to respond and take care of this situation so quickly.  I had assumed, with the bazillions of users/comments/complaints, that I wouldn't hear back from them quickly, if ever.  This must have been a huge, top-priority data-error in their servers.  Happy they were able to resolve it!]