Saturday, November 1st, 2014 at 12:36 pm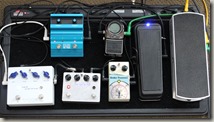 This was my old SKB PS-25 pedal board, mid-2012.
After the pedalboard power supply died last year, I purchased a Visual Sound 1 Spot, and continued using the old SKB just as a convenient velcro surface to hold my pedals.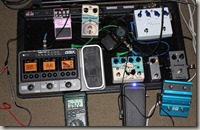 As the Drop Daddies' repertoire of cover tunes has expanded, so has my need to produce an ever-increasing variety of sounds.  So my complement of pedals has gradually been expanding.  I'm generally not a big fan of modelers, but I added the Zoom G3x for flexibility with delays, choruses and phasers, etc.  It has a fairly sizeable footprint, so I pulled off my Ernie Ball volume pedal, since I could use the G3X for volume if necessary.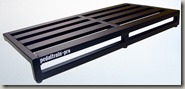 Even so, I needed more space.  I have been intrigued by the Pedaltrain Pro- but the price is high for such a simple thing.
Time for some creative woodworking!  I rarely get a chance to combine my woodworking and guitar hobbies.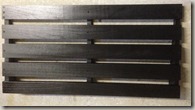 I was planning to paint it black, so the wood didn't need to be beautiful.  I chose poplar because it's a strong hardwood, and  it's relatively inexpensive since it tends to be an ugly shade of greenish yellow.