Tuesday, December 10th, 2013 at 7:04 pm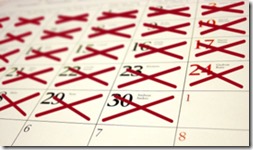 In my Millionth Anniversary video back in 2012, I talked about Jerry Seinfeld's motivational technique for tricking yourself into getting things done.  "Don't Break The Chain!"
Since February 19, 2012- I've kept my pledge to play guitar every day, no matter what.  That's 660 days!  Yes, sometimes it's just a few minutes right before bed.  But more often, once I pick up the guitar, I end up playing for a good session.
I no longer need to draw X's on a calendar, as in Jerry's technique-  I just know that I don't want to miss a day.  This technique really builds new, effective habits.

When travelling, I always bring my travel guitar (Traveler EG-1).  I've taken it on multiple trips to China, Australia, Hawaii, and Japan, as well as road-trips, camping trips, etc.  It has a full-sized 24 3/4" scale neck, so it's an effective practice-substitute for my Les Paul.  And it's flexible- it has an integrated headphone preamp with aux-in and distortion circuit for playing along with mp3's, though I most often play unplugged/acoustic.
So how has my playing improved in the last 660 days?   I'm often surprised at the things I can play now that I would never have even tried previously (the solos in Jessie's Girl, Just What I Needed, and Shook Me All Night Long stand out). 
But still, I have a long way to go, and I need to consider how to make my practice time more efficient.  Since I started this, I've learned so many songs that I always have a large library of cool licks and solos to review.  But I'm realizing that I shouldn't exclusively play songs – I also need to balance it with strengthening exercises and scales/CAGED knowledge, and improvising skills.   I'll try to do more of this in my next 660+ days of practice

Want to establish new habits?  Try this, it works-  Don't Break The Chain!